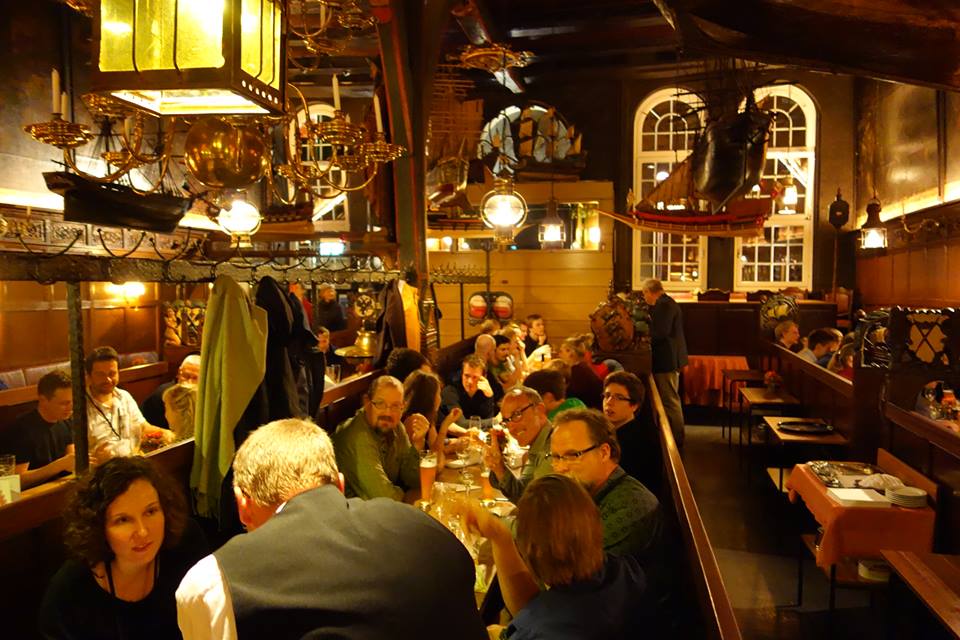 At KISS, it's traditional to continue the lively discussions over shared meals. If you can, please join us for the group dinners that have been arranged after the concert each night of KISS. Concerts begin at 5 pm so dinners will begin around 6:30 or 7 pm.
If you've been to other out-of-town meetings, you know how much overhead goes into feeding yourself: organizing some dinner companions, searching for a restaurant in an unfamiliar city, waiting in line for a table, waiting for food, and then figuring out how to split the tab. Worse yet, sometimes you get stuck eating all by yourself!
That's why we'd like to invite you to join us for a stress-free dinner with friends at the mansion!
Conference organizer Theo Lipfert has arranged for catered food and unique, site-specific locations for KISS dinners by reserving the historic, 22 room 9,000 square foot Story Mansion (and on the last day of the symposium, a forested park next to the Black Box Theatre) just for us! Each evening after the concert, we'll be able to walk to the Story and enjoy a quiet dinner and conversation in the privacy of our very own mansion! No piped-in music, no terrible restaurant acoustics, just the sounds of lively conversation and laughter; it will be just like dinner in your own home (if you live in a 22 room, 9000 square foot mansion that's on the list of historic landmarks). And yes, your traveling companions are invited too—as are members of the public who attend the concert and would like to meet-the-performers over dinner afterward.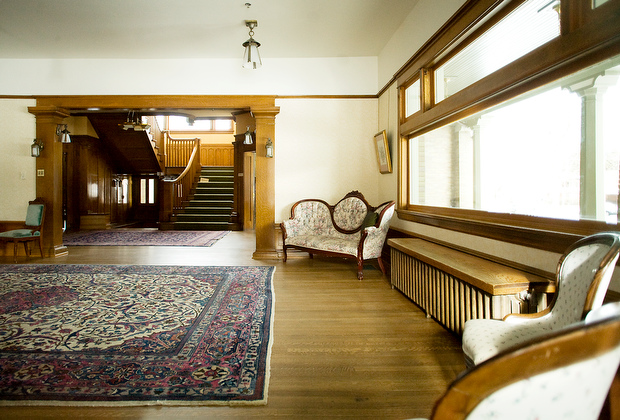 Meals are $20 (if purchased in advance) and include vegetarian, pescatarian, and ominiverous options, iced tea, and dessert. Wine, and beer sourced from local breweries, are $4 a glass. Bozeman is a resort town, so a dinner in downtown Bozeman this time of year is likely to cost at least that much (if not more). Plus, eating at the mansion will be easier and less stressful; reallocate that time you would have spent searching for a restaurant to time spent enjoying stimulating conversations with new and old friends from KISS.
I don't want to eat alone! Sign me up!
In order for us to give the caterer an idea of how many to expect, we request that you reserve your meals in advance. When you reserve your meals in advance, you can also use a credit card (on-site tickets are cash-only and of limited quantity), and you won't have to hunt down the meal-ticket-person every day during KISS. When you arrive at the registration desk, a friendly MSU student will hand you your meal tickets along with your name badge (and secret, wearable conference memento).
Meal tickets will also be available on site (however, no credit cards can be scanned on site and there are a limited number of tickets, so it is far easier if you purchase your tickets in advance). Tickets will be available (for cash) at the registration desk or from MSU student KISS helpers throughout the conference. So if you decide you'd like to invite some newfound friends to join you for dinner, no worries; you'll be able to purchase additional tickets there.
You've convinced me! How do I reserve a meal?
To help tempt you, here are the menus for each evening (subject to some adjustments and additions):
Sunday August 9
Grilled portobello mushrooms
Grilled trout
Pulled pork
Monday August 10
Vegetarian lasagna
Stuffed chicken breasts
Carved roast beef
Tuesday August 11
Stuffed peppers
Pitch-fork fondue (meat/fish on a pitchfork thrust into boiling oil)
Indian fry-bread
Wednesday August 12
Celebrate the last day of KISS2015 with a Western Barbecue outside by the Duck Pond (next to the Black Box theatre): Veggie burgers, hamburgers & hot dogs, fresh from the grill. It's summer!
Each meal includes cole slaw and other sides, iced tea, water, and dessert.
Now I'm salivating! How do I reserve a meal?